FIRST ANALYSIS NEWS
New First Analysis white paper: Going beyond the pill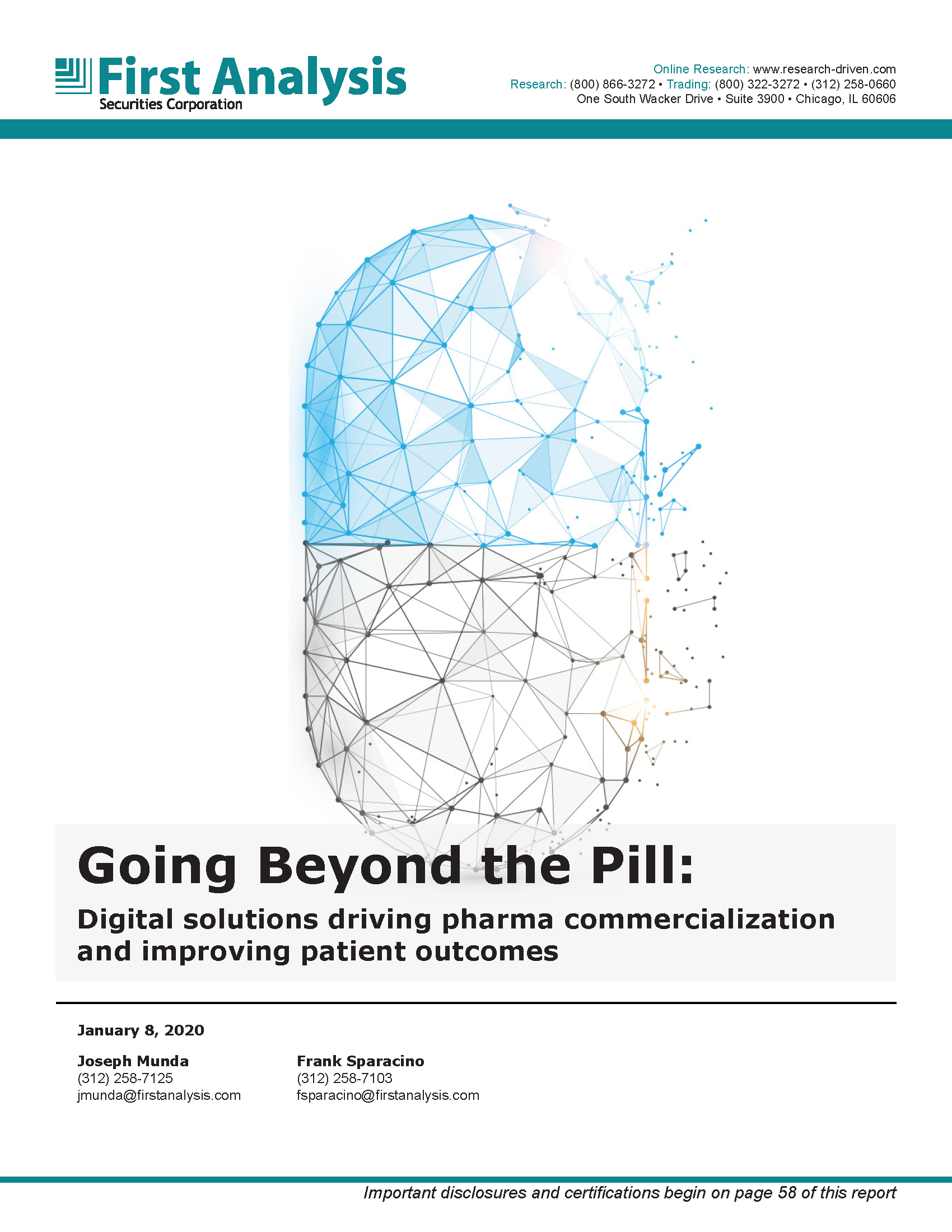 Digital solutions driving pharma commercialization and improving patient outcomes
First Analysis Vice President Joseph Munda's latest white paper explores the dynamic and rapidly evolving array of digital technology solutions related to drug commercialization. Munda highlights numerous promising opportunities in this burgeoning emerging sector. His work builds on his broad involvement in medical and pharmaceutical technology as well as his 2018 white paper, "eClinical Solutions: Streamlining the introduction of new drugs and medical technology."
Economic and regulatory pressures, pricing scrutiny, new industry stakeholders, and the explosion of real-world data have caused life sciences companies to rethink their commercialization strategies. By leveraging data-driven digital technologies, life sciences companies can generate the knowledge and insights needed to improve commercialization and patient outcomes. Munda examines how these data-driven technologies and more than 80 innovative companies are transforming pharma commercialization in numerous key areas, including:
CRM technology
Data integration and analytics
Virtual reality
Digital key opinion leaders
Direct-to-consumer and point-of-care advertising
Mobile health
Digital therapeutics
Medication adherence and compliance
Patient communities and social media
Hub services
Payer engagement
First Analysis's deep research into specific market segments allows it to source and add value to the companies it invests in as well as provide differentiated insights into the public markets. Munda's pharma and medical technology focuses, combined with Senior Vice President Frank Sparacino's healthcare analytics focus, encompass some of the most exciting emerging areas in healthcare technology.
"Our earlier work in pharma technology has driven First Analysis's successful venture capital investments in industry leaders such as RPS Pharmaceutical Services (now part of PRA Health Sciences) and ANI Pharmaceuticals and provided valuable insights into the public companies in the sector," Munda commented. "We see many more great opportunities for innovative technology providers to help pharmaceutical companies navigate and capitalize on the evolution of our health care systems."
About First Analysis
First Analysis has a nearly four-decade record of serving emerging growth companies, established industry leaders, and institutional investors in emerging high-growth segments in technology and healthcare, both through its venture capital investments and through First Analysis Securities Corp. (FASC), which provides investment banking services and institutional equity research. FASC is a FINRA-registered broker-dealer and member SIPC. First Analysis's integrative research process underpins all its efforts, combining 1) dynamic investment research on thousands of publicly traded and privately held companies with 2) thousands of relationships among executives, investors, and other key participants in our focus areas, yielding a deep, comprehensive understanding of each sector's near-term and long-term potential.
---
For more information, please contact: