FIRST ANALYSIS NEWS
First Analysis acted as co-manager in Proofpoint Inc. IPO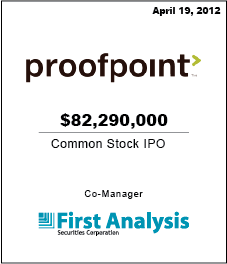 CHICAGO - April 23, 2012 - First Analysis Securities Corp. acted as co-manager for the initial public offering of Proofpoint Inc. (NASDAQ: PFPT), which priced on April 19, 2012 and began trading April 20.
The IPO of 6.33 million shares priced at $13 per share, which was above the expected price range of $10 to $12 per share. Together with First Analysis Securities Corp., RBC Capital Markets LLC and Pacific Crest Securities LLC are co-managers for the offering. The book-running managers are Credit Suisse Securities (USA) and Deutsche Bank Securities.
About Proofpoint
Based in Sunnyvale, Calif., Proofpoint is a pioneering security-as-a-service provider that focuses on cloud-based solutions for threat protection, compliance, archiving & governance and secure communications. Organizations around the world depend on Proofpoint's expertise, patented technologies and on-demand delivery system to protect against phishing, malware and spam, safeguard privacy, encrypt sensitive information, and archive and govern messages and critical enterprise information.
About First Analysis
Founded in 1981, First Analysis has a 30-year track record of serving emerging growth companies and established industry leaders within its focused areas of domain expertise. Our investment banking practice leverages industry insights developed through our equity research and private equity activities to deliver value to clients across the life cycle of a business.
Providing senior-level attention to every client, First Analysis offers superior execution across a comprehensive range of investment banking services, including M&A advisory, public equity and debt financing, and private equity placements. For more information about this transaction, or with questions about how we can assist you or your clients, please contact the following First Analysis representatives:
---
First Analysis Securities Corp. (FASC) is a registered broker/dealer with FINRA and member SIPC.